7 Oaks Laser Dental Centre, Your Abbotsford Family Dentist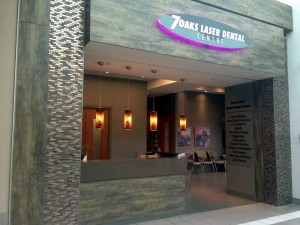 At 7 Oaks Laser Dental we provide residents of Abbotsford, BC the latest preventive dental care along with an extensive range of Cosmetic and Restorative dental solutions including professional Teeth Whitening, Smile Design, Crowns, Bridges, Veneers, and Invisalign.
Today's families lead busy lives and value convenience – 7 Oaks Laser Dental is there to support your oral health and active lifestyle.  We're conveniently located in 7 Oaks Shopping Centre and offer extended evening and weekend hours to ensure that we are accessible for appointments when you are, and for Dental Emergencies whenever they happen.
And if you're anxious about dental treatment, we offer Laser Dentistry and Sedation Dentistry – two ultramodern solutions that help not only with anxiety, but which provide excellent options for those that want to accomplish multiple procedures in a single appointment.
We're always welcoming new patients, and look forward to forming lifelong relationships with our neighbours and colleagues in Abbotsford.
Contact us to book a convenient and pain-free appointment at 7 Oaks Laser Dental today!
We were proud to be a 2016 A-List Finalist in this years contest